Myron Steeves
Founder
Myron Steeves has an extensive background in both the legal field and the nonprofit arena. Myron has served as a Christian missionary to the Middle East and is graduate of Biola University and Georgetown University School of Law. He is the Dean Emeritus at Trinity Law School, a Christian law school devoted to championing a biblical view of human law and government. He frequently speaks on a wide array of issues involving Christianity and the law, including the integration of faith and law, legal careers as tools for Christian ministry, law and public policy, and law and theology.
Myron serves nonprofit organizations, religious organizations, and churches through his practice by offering sound legal guidance from a faith-based perspective. He is an active member of the nonprofit committees of both the California Bar Association and the American Bar Association.
Lisa A. Runquist
Of Counsel
Lisa has practiced law with both nonprofit organizations and business organizations since her admission to the Minnesota Bar in 1977 and to the California Bar in 1978.  Lisa is a graduate from Hamline University, where she received her B.A., with distinction, in Philosophy, and the University of Minnesota Law School.
Lisa is a prolific writer and author. She is the author of a guidebook, The ABCs of Nonprofits, first published in April 2005, with the 2nd edition published in 2015 by the American Bar Association, Business Law Section. (Click here to read a review by Stephen Nill, founder of CharityChannel.) The ABCs of Nonprofits has now been released in Spanish as well! Lisa is also the principal author and editor of the Guide to Representing Religious Organizations, published in February 2009 by the American Bar Association, Business Law Section. She writes and speaks on a regular basis, has contributed extensively to professional literature regarding nonprofit organizations, and is regarded as an expert in the area of nonprofit organization law.  Lisa was the first recipient of the Outstanding Lawyer Award by the ABA Business Law Section, A Nonprofit Lawyers Award, and the first to receive both the Outstanding Lawyer Award AND the Vanguard Award.
Lisa has been AV Peer Review Rated by Martindale-Hubbell for over 25 years, and has been on this list of Southern California Super Lawyers for the past 5 years.
When she's not working, writing or speaking about nonprofit matters, Lisa trains and competes regularly with her Standard Poodles, Zippy and Marley, in agility, obedience, rally, tracking, lure coursing, and other dog events around Southern California and across the country.  Zippy and Marley are also registered Therapy Dogs.  Her newest up-and- coming star, Jack, is a Lagotto Romagnolo (Italian Truffle Hunting Dog) an ancient but rare breed who has an impressive work ethic and ability to figure things out.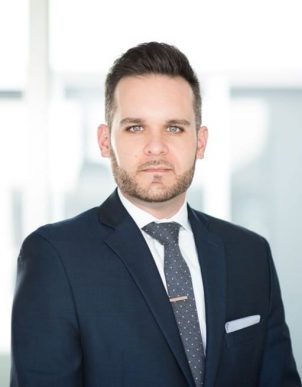 Anthony Gonzalez
Of Counsel
Anthony Gonzalez was born and raised in Miami, Florida. Anthony graduated from Florida International University with a Bachelor of Science in Criminal Justice and earned his Juris Doctor from St. Thomas University School of Law. In law school, Anthony received the Book Award in Appellate Advocacy for obtaining the highest grade for his written and oral argument, and as a result, accepted an invitation for membership into the International Moot Court Honors Organization. Additionally, while attending law school, Anthony became an ordained clergyman and co-found a non-denominational Christian church in Miami. Anthony focuses his practice in the areas of civil litigation and church law.
Kelli Marsh
Associate
Kelli Marsh came to the Church Law Center after a career in the financial services industry, where she developed an understanding of risk analysis and project management. She earned her B.A. in Communications from Azusa Pacific University and her J.D. from Trinity Law School, graduating second in her class with the Dean's Scholarship. She served as Lead Article Editor on Trinity's Law Review and was a member of the Christian Legal Society.
Kelli provides our clients with legal counsel in the governance and tax exemption areas. In her financial services career she interacted with tax agencies as a Senior Client Services Specialist, gaining broad insight into the tax issues facing nonprofits. Kelli also serves as a teaching assistant at Trinity Law School and teaches for Right on Mission. She has a wide range of experience as a volunteer for charities, including work in Mexico, India, and Tanzania.
Nathan Brecht
Associate
Nathan Brecht has a diverse background in dependency law and civil litigation. In the dependency sector, he served families in need as a Minor's Counsel in Los Angeles County, where he honed his skills as an advocate and trial attorney. He brought that experience to the civil arena where he represented corporate clients, primarily in Real Estate and Business law. Nathan tried cases to victory and honed his skills as a negotiator through numerous mediations. He excels in interpersonal communication and negotiation, making him an asset for any corporate client.
A southern California native, Nathan graduated from Vanguard University with a Bachelor's in Sociology. He went on to obtain his J.D. from Trinity Law School, where he participated in moot court, law review, and Trinity's student tutoring program. Nathan has a long history serving in church both domestically and abroad in Cambodia, Mexico, and Belize. In his free time, Nathan enjoys studying and playing music, exploring coffee brewing methods, and hiking.
Now, Nathan brings his passion for the law, advocacy, counseling, and the local church to the Church Law Center, where he advises our clients in formation and structuring of nonprofit entities.
Jessica Frieberg
Paralegal
Jessica Frieberg has spent her legal career serving nonprofits and has been with the Church Law Center since 2008. Jessica has extensive knowledge in the areas of nonprofit formation, tax exemption, governance issues, and dissolution proceedings. She has filed applications for nonprofits' tax exempt status at both the federal and state level and has drafted articles of incorporation, bylaws, intellectual property licensing agreements, and employment contracts for nonprofits. She is well steeped in reviewing nonprofit corporation documents for compliance with the law and has a friendly, open demeanor when meeting with clients.
Jessica earned her undergraduate degree at Westmont College in Santa Barbara and completed her graduate certificate in Paralegal Studies at the University of California, San Diego.
Maria Gurule
Paralegal and Office Manager
Maria Gurule received her bachelor of arts degree in sociology and her master of arts degree in educational psychology from Azusa Pacific University. She has worked in education since 2008, beginning with with K-12 students in extended learning programs focused on college preparation and post high school education. In 2011, she made a move into higher education to work for Trinity Law School in Santa Ana, California. There, she has worked in the admissions, registrar and academic services departments. Her masters level training included psychometrics, student assessment and effectiveness of student interventions on student learning and behavior. She decided to take her training and continue to focus on law student higher education learning. She currently serves as the Office Manager and one of the Paralegals at the Church Law Center of California.
Serving California Nonprofit Organizations
Contact Us
For a Consultation please fill out the form or call us.